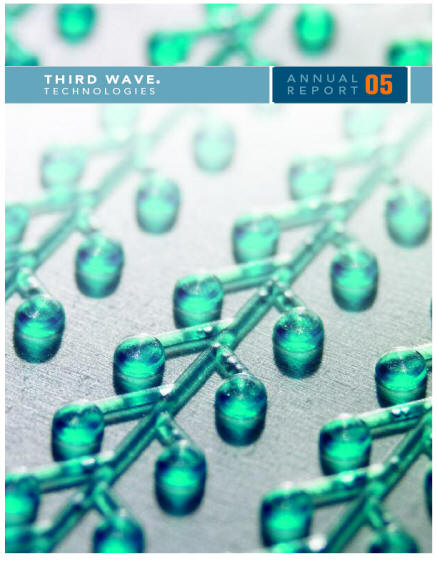 Design: Creative Strategy Group, Redwood City
Third Wave Technologies
2005 Annual Report
Copy excerpt:
Molecular diagnostics is the fastest growing segment of the $29-billion worldwide IVD market, expanding by 15% to 25% a year. An increasing number of physician and other professional organizations are recommending specific molecular diagnostic applications as the standard of patient care.
The market is also expected to grow rapidly as molecular
diagnostics continue to demonstrate early detection and intervention advantages that lead to improved patient outcomes and reduced health care costs. It will continue to expand as physicians use molecular diagnostics to customize drug therapies for individual patients.
Third Wave owns one of the few chemistries capable of addressing the molecular diagnostics market and we are uniquely positioned to capture value in it. The 30% compound annual growth in our clinical molecular diagnostic revenue since 2001 is a clear demonstration of our ability to do that.
Download PDF (1 MB)