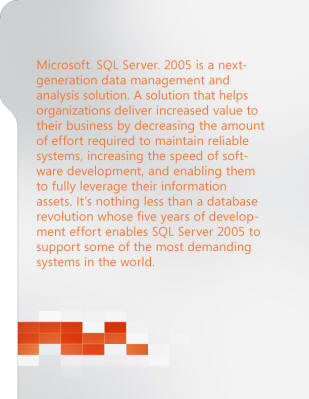 Microsoft SQL Server 2005 Sales Guide
Copy excerpt:
SQL Server 2005 Enterprise Edition scales to the performance levels required to support the largest enterprise online transaction processing (OLTP), highly complex data analysis, data warehousing systems, and Web sites. Its comprehensive business intelligence and analytics capabilities and its high availability features, such as failover clustering and database mirroring, allow it to handle the most critical enterprise workloads.
SQL Server Enterprise Edition is the most comprehensive edition of SQL Server and is ideal for the largest organizations and the most complex requirements.
Download PDF (6 MB)