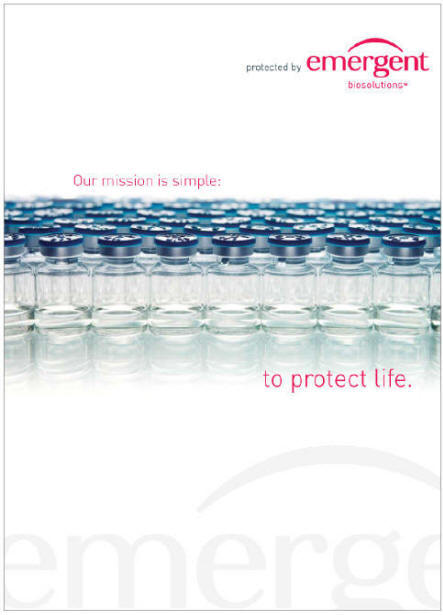 Design: FCI Creative, Bethesda, Maryland
Emergent BioSolutions
2006 Annual Report
Copy excerpt:
With a typhoid vaccine, hepatitis B therapeutic vaccine and a group B streptococcus vaccine in clinical development, and a chlamydia vaccine and a meningitis B vaccine in preclinical development, we are seeking to establish Emergent BioSolutions as an important global vaccine developer.
We continue to seek ways to mitigate the financial hurdles inherent in the development of commercial vaccines. For example, The Wellcome Trust provided funding for the Phase I clinical trial of our typhoid vaccine candidate in Vietnam and has agreed to provide funding for the Phase II clinical trial of this vaccine candidate in Vietnam.
Additionally, in 2006 we entered into a clinical trial agreement with NIAID under which NIAID has agreed to fund, manage and conduct an additional clinical trial of our group B streptococcus vaccine product candidate.
Download PDF (2 MB)