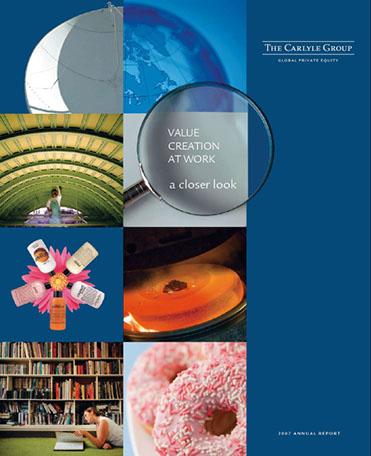 The Carlyle Group
2007 Annual Review
Copy excerpt:
Every day, in cities around the globe, Carlyle creates value by helping to build better businesses. By combining global presence with local insight, industry expertise and management know-how, we enable companies to develop, grow and become more competitive. That's value creation at work.
From teaching English to businesspeople in Indonesia to developing a new generation of intelligent eyeglass lenses that automatically adjust focusing power, the companies in which Carlyle invests touch the lives of millions of people around the world.
We call our approach to international teamwork "One Carlyle." And we are singleminded when it comes to enhancing the value of our investments. It's the core of our commitment to our investors—a commitment to generate excellent returns as well as a dedication to integrity, ethics and professionalism.
Design: FCI, Bethesda, Maryland
Download PDF (3.5 MB)