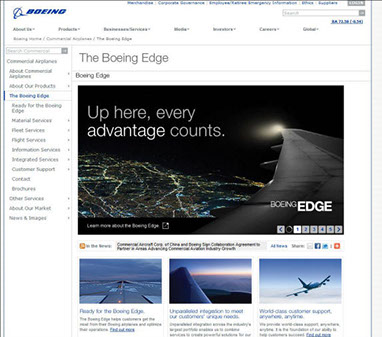 The Boeing Edge
I wrote copy for The Boeing Edge website as part of a project that also included a printed advertorial, internal communications, and an iPad app.
Copy excerpt:
How we give Boeing customers an edge.
The Boeing Edge is all about customer success. We provide the support, services and solutions to give customers every competitive advantage-directly from the OEM.The Boeing Edge brings customers what no other single service company can. Combining our strengths creates their advantage.
The Boeing Edge is built on the five unique Boeing attributes that give Boeing customers a competitive edge and help ensure their success.
Passionate People
Boeing people are available every day, working around the clock to support our customers' businesses.
OEM Knowledge
Our design knowledge, manufacturing experience, engineering expertise and fleet data are part of every service we provide. No one else has it. And no one else can say "backed by Boeing."
Breakthrough Technologies
Our commitment to research and development helps keep airplanes safe, reliable and available-and operations efficient.
Lifecycle Commitment
Our support begins when a customer acquires airplanes and continues as it operates and maintains them daily, upgrades and refreshes them, and transitions them.
Unparalleled Integration
We have the largest services portfolio in the industry, so we can provide solutions that span an entire enterprise. And we can integrate solutions to give an airline's fleet, operations, and business maximum performance.

Design: Methodologie, Seattle